Searching for the Silk'n Skin Care Coupons
Enjoy a great saving 15% OFF on the Silk'n Skin Care coupons by using the Promo Code: CELEBRATE. You can save 15% off and plus you will receive a FREE bottle of Silk'n Screen when you purchases a FaceFx, Blue, SensEpil, SensEpil 65K XL, Pro 4.5K Flash&Go, or Flash&Go Luxx!. Silk'n is the best products to let you remove unwanted hair without any problems and a revolutionary new way to treat acne.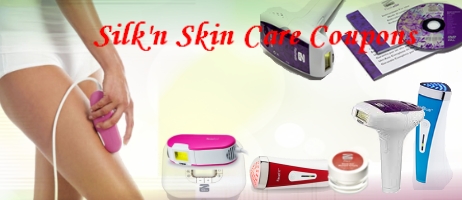 25% off the Silk'n SonicCleanPlus, ReVit, and the Pedi during the month of June! Please use coupon code SUMMER25.

June is Acne Awareness month and to raise awareness Silk'n will be offering the Silk'n Blue for 15% off. A free bottle of Blue Cleanse will also be included with every order. Coupon code: ACNEAWARE

Hair Removal: Silk'n SensEpilXL 65K

Hair Removal: Silk'n SensEpil Pro 65K
Watch This Video